Exploring the Varied World of Car Body Styles
(Photo Credit: VectorStock)
The world of automobiles is as diverse as it is fascinating, with numerous car body styles catering to different preferences, lifestyles, and purposes. These body styles are not only functional but also contribute to the aesthetics and character of a vehicle. In this article, we will explore the various car body styles, offering a comprehensive understanding of each type and their unique characteristics.
Let's dive right in.
Sedan
(Photo Credit: Unsplash)
Sedans are among the most common car body styles, known for their four-door configuration and comfortable passenger seating. They come in various sizes, from compact to full-size, making them suitable for families, individuals, or those seeking a balance between style and practicality.
Sedans are known for their spacious interiors, making them ideal for comfortably accommodating 4-5 passengers. It's no surprise that sedans enjoy immense popularity among a broad spectrum of consumers, prompting most car manufacturers to include them in their product offerings.
Hatchback
(Photo Credit: Unsplash)
Hatchbacks, exemplified by popular models like the Suzuki Swift and Volkswagen Golf, have earned their place as beloved body styles in the local automotive landscape. Hatchbacks come in a range of sizes, from subcompact to compact, offering ample storage space.
Hatchbacks are characterized by a rear door that opens upwards to provide access to the cargo area. They are known for their versatility, making them popular among urban commuters and young drivers.
Sports-Utility Vehicle (SUV)
(Photo Credit: Carbuzz)
SUVs are known for their robust design and elevated driving position. These vehicles are available in various sizes, from compact to full-size, and often feature all-wheel or four-wheel drive, making them suitable for off-road adventures and family road trips.
Multi-Purpose Vehicle (MPV)
(Photo Credit: Torque)
MPVs, or Multi-Purpose Vehicles, are characterized by their taller profile in comparison to station wagons and often feature a one or two-box design. They are celebrated for their generous interior space, making them the preferred option for those in need of accommodating a considerable number of passengers, with certain models capable of seating 7 to 8 individuals.
The considerable size of MPVs not only allows for enhanced passenger capacity but also provides them with substantial cargo room. Some prominent examples of MPVs in the automotive realm include the Toyota Alphard and the Renault Grand Scenic.
Crossover
(Photo Credit: US Car News)
Crossovers blend the best of both worlds by combining the utility of an SUV with the driving dynamics of a car. They often have a unibody construction and are ideal for those who need extra cargo space without sacrificing maneuverability.
Coupe
(Photo Credit: Unsplash)
Coupes are characterized by their sleek, two-door design, and a more sporty and aerodynamic profile. They are often favored by individuals looking for a stylish and performance-oriented ride.
Recently, the Coupe concept has broadened its scope to include larger automobiles, giving rise to four-door Coupes like the Mercedes CLS. Furthermore, the automotive industry has witnessed the surge of SUV Coupes, exemplified by models such as the Mercedes GLE Coupe. These vehicles boast lowered and more streamlined rooflines, lending the classic "Coupe" aesthetics to what are typically larger cars or SUVs. This transformation within the Coupe category introduces a hint of sporty elegance to a wider array of vehicle categories.
Pickup Truck
Pickup trucks are renowned for their utilitarian design and cargo beds at the rear. They come in various sizes, from compact to full-size, and offer powerful towing and hauling capabilities. Pickup trucks are the go-to choice for those who need to transport heavy loads.
Convertible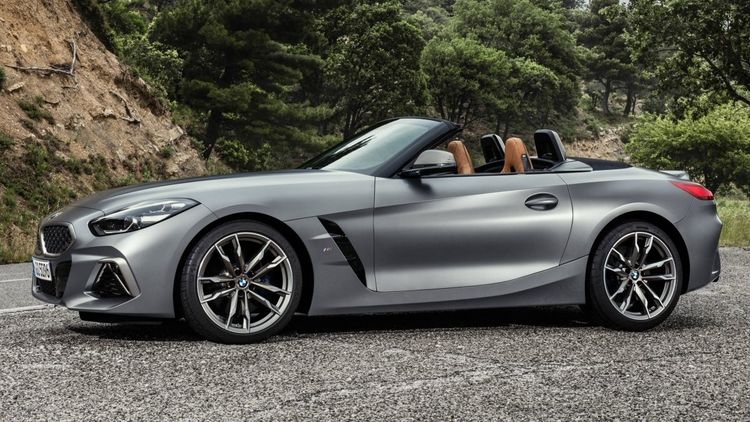 (Photo Credit: DriveMag)
Convertibles, also known as cabriolets, offer an open-top driving experience. They come with either soft or hardtop roofs that can be retracted, allowing drivers to enjoy the wind in their hair on sunny days. Convertibles are typically associated with a sense of freedom and leisure.
This guide aims to provide a clearer insight into the fundamental car body styles that are prevalent in the automotive industry. These body styles can be found across a wide range of brands, from those that start with the letter A to those that end with Z.
However, it's essential to keep in mind that car manufacturers might employ different marketing terms for the same body styles. For instance, an MPV may be marketed as a minivan by some companies. Therefore, conducting thorough research is advisable. We welcome your feedback and any insights regarding body styles that may not have been covered in the comments below!
Find out your car's worth now, absolutely free: https://bit.ly/Hassle-Free-Valuation
I want to find the highest selling price for my car within 24 hours!
---
Read more: Malaysia's Mall Parking Rates 2023: Part 1