mReview: 2021 Toyota Camry – The Fountain of Elixir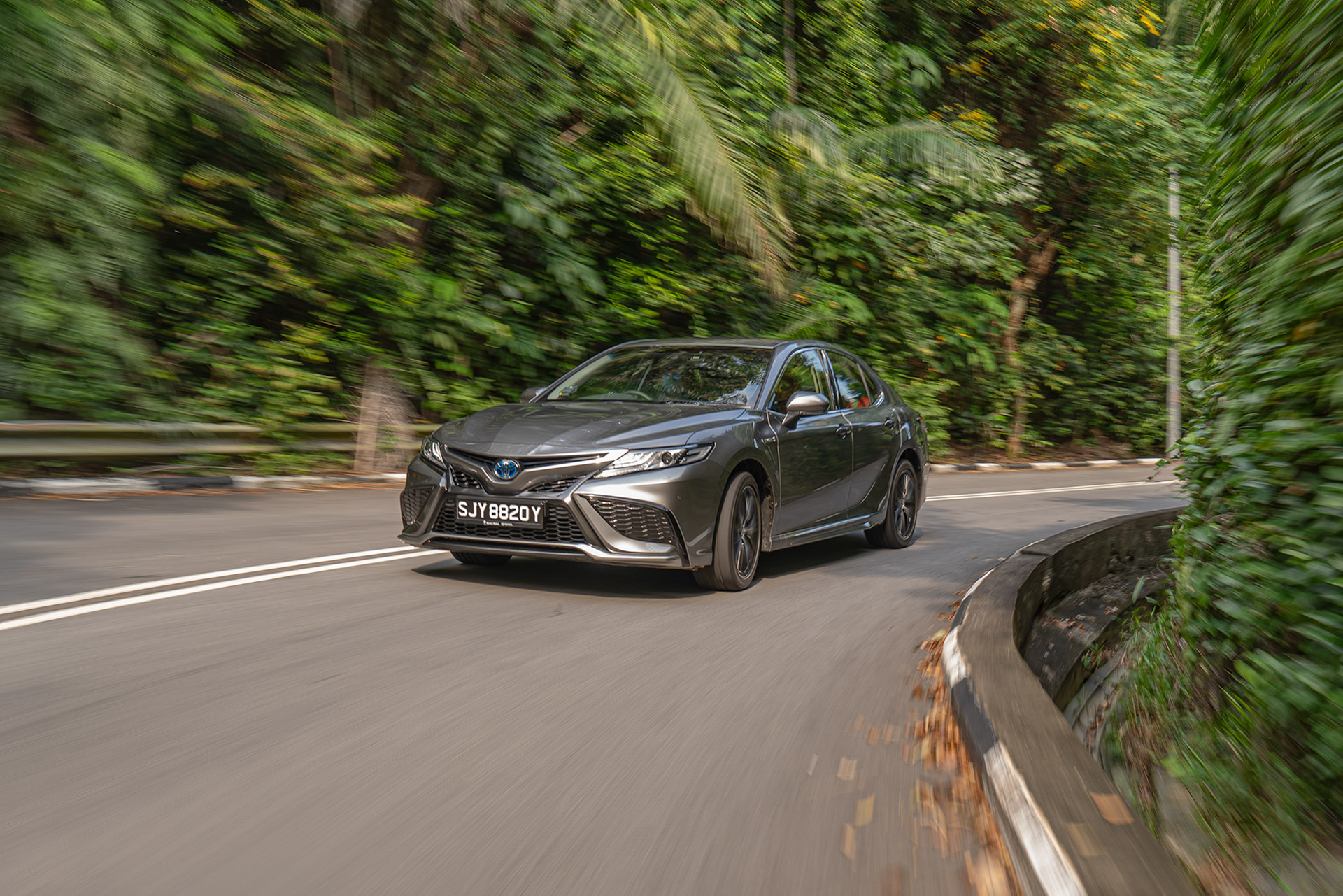 The Toyota Camry has always had a bit of a reputation for being the obvious choice for the ageing family man.
This isn't someone you'd necessarily call charismatic – at least not in the way we recognise. This shows in his choice of vehicle – they want something practical, full-sized, and with robust mechanicals. Style, charm and charisma are very much secondary.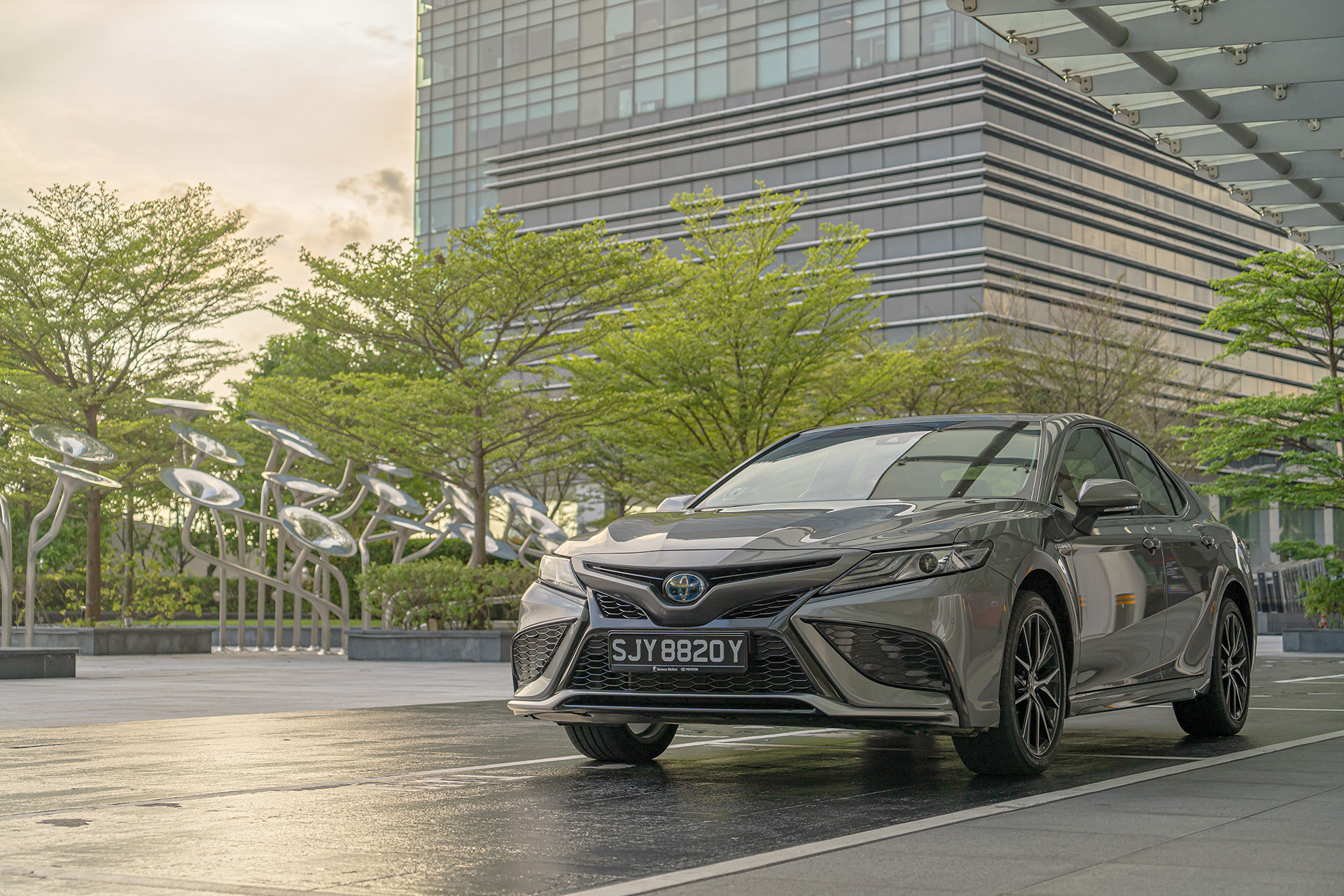 Expectations
Truth be told, we weren't totally sure what we'd expect to find when we climbed behind the wheel. The Toyota Camry models of old were mechanically bulletproof, annndddd that's really all the car had going for it. 
There's little, if at all, fitted to these cars that would make you call them 'interesting'. 
The generally featureless body, and the fact that the de-facto specification of these older cars seemingly being beige-on-beige, resulted in the cars almost being what you'd term as 'generic'.
Beauty Is Skin Deep
But with the Koreans churning out some fairly fantastic-looking cars, and with a greater range of offerings from Europe at a very similar price point, the XV70 Camry had to be bold. No longer was it sufficient to just be the most reliable offering in the hotly-contested family saloon category. 
Essentially, the car had to shake off the old-man reputation it has built up over the past couple of decades.
And shake it off did Toyota. This Camry is chiselled and defined. It's well sculpted, and very much the antithesis of what the old car stood for. To be fair, it's easy to go overboard and completely over-style your cars.
But we feel that the Camry pushes the design envelope just far enough. 
It has a distinct shoulder line that really sets off the profile of the car. This aggression is also carried over to its rear arches – the sills, haunches and rear fenders all work in unison to create some much-needed definition.
This styling ethos continues at the front. There's an almost Lexus-esque grille that dominates the front of this Camry, only broken up by a bold piece of trim that visually connects the headlights. The only complaint we have on this front is the fact that a lot of the front meshwork is blanked off.
The rear of the car is more standard fare Toyota, though there's still definitely a whiff of Lexus about this car's booty. 
On the whole, the exterior combines sporty looks in a well-executed package that greatly exaggerates its visual size and price tag.
In The Cockpit
The styling continues on the inside. Toyota pulled out all the stops to make this Camry feel premium. Even if you discount the materials, which are not low rent by any means, the dashboard's design alone screams upmarket saloon.
Striking is perhaps a bit of an understatement. The humdrum and subtly of yesteryear has been ditched in favour of some curvaceous pizzazz. 
Bold lines dominate the centre stack, and to make you feel even more special, each swoop appears to have been made of a different material.
The actual centre stack is made of a piano black plastic. Its surrounds are also made of plastics, albeit in different colours and finishes. Soft-touch materials of different pliability are used throughout the cabin -  you'll be able to find this on the top of the dashboard, as well as in various parts of the door cards.
To remind you that you're in an expensive saloon (the test car is the Elegance trim variant), the various plastics are then offset with some leather trim on the dashboard, strategically placed in locations that you'll come into constant contact with. Overall, the material and build quality are excellent.
There are some hard scratchy plastics, but at no point were we ever bothered by their presence, as they have really only been used in areas that are out of your sight. 
The car comes with heated and cooled seats which may be a small touch, but a very welcomed one. On the three really hot days we had with the car, it provided great respite from the heat as we jumped to and from the car to set up photoshoots.
It also makes for a good laugh – remember the scene in a certain British motoring show where the two co-hosts pranked each other with their seater warmers in a much more upmarket European saloon? If you bought a Camry, you can now annoy your significant other in a similar fashion too. Your mileage will most certainly vary though - proceed with caution!
The Screens
What does let the interior down though, is the Camry's infotainment. The sound system is adequate, though rear-seat passengers have suggested that it needed a bit more oomph in the bass department.
The infotainment screen itself follows the industry-standard double-DIN size in a time where its closest rivals are ditching it in favour of customised solutions that make better use of the dash real-estate. But it isn't only the size that looks archaic, its graphics look dated too.
However, there's no questioning its reliability – in our testing, Android Auto works pretty much instantly whenever your phone is plugged in. There's no lag or delay when you are already connected, making it a real breeze to use.
The car's instrument cluster packs its second screen. It fills up the space between the 2 analogue dials and gives you much-needed information on mission-critical items, such as the state of the hybrid system and what driving assists do you have on or off. 
Whilst the feedback is good, it could do with some extra definition – the graphics aren't exactly what you'd call HD.
The Drive
Let's talk power, shall we. The car packs a combined 207bhp from its 2.5 litres inline-four-cylinder engine and its electric motor. The powertrain sends its power to the front wheels via a CVT transmission.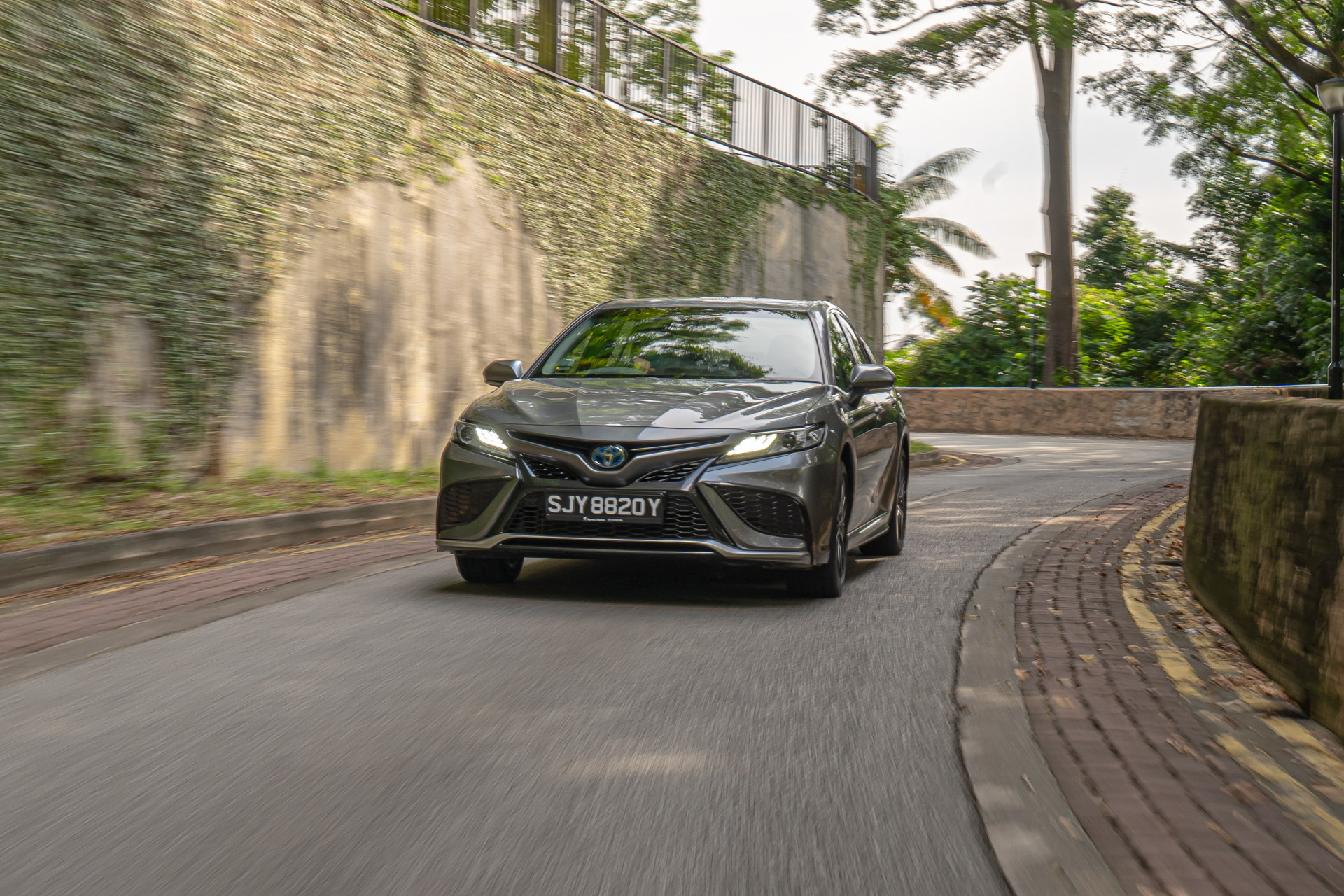 To set records straight, the electric motor means the car is pretty good off the line up till around 15 km/h. The petrol engine then takes over, and the rate of acceleration seems to slow. In this configuration, the CVT does little to improve the overall driving experience.
The car does have power – it just isn't urgent about the way it surges. The CVT exaggerates this problem, as it takes a while to recognise that you are requesting for more torque and speed.
It then shuffles through its infinite ratios to find the one that puts the car in the optimal powerband.
But then again this isn't a car built for speed and performance. A Camry is supposed to waft you along in total silence and comfort, and this configuration is ideal for doing just that.
A car's waft-iness doesn't always translate into boat-like handling in the twisties. There is some body roll yes, which is to be expected in a more comfort and economy-oriented saloon, but at no point did we ever find it unwieldy. 
You can throw the car into any corner at legal speeds, but it'll take you some serious momentum to even force the front wheels to break traction. Even cross-armed and barrelling into a corner at speed, the seats both in the front and rear are comfortable yet supportive enough to hold you in place.
Whilst it actually has enough grip to allow you to cut loose on a twisty mountain-type road, there's a sense that it would very much prefer you to respect it as a pseudo-Lexus. 
Ultimately though, the Camry is, expectedly, most at home on smooth roads in the city being driven sensibly. It is whisper-quiet, supple over bumps and spacious on the inside.
Our testing revealed an average fuel consumption figure of around 16km/l, which falls short of the claimed 22.8km/l. Considering we had to regularly stop to set up and plan for photoshoots, alongside the more spirited drives as part of our testing regime, we'd say the car did admirably. 
Closing Thoughts
The new Camry legitimately feels like a budget Lexus. It drives well, is silent and comfortable, and most importantly, really well thought out and built.
Gone are the days when the Toyota Camry was designed to appeal only to its middle-aged clientele. This latest iteration of the car seems to have unlocked the fountain of elixir. 
It looks and feels positively youthful, revitalised, and we'd even go as far as calling it upmarket. It will very much appeal to the young or the young-at-heart. 
It is well-made, comfortable, and quiet, and really all the car you need for Singapore. 
At the time of writing, it is RM270,000 cheaper than a Lexus ES. So it is priced like what you'd expect a Toyota to cost, but packs the look and feel of a more premium saloon.

Specs
Price:

From RM199,109

VES Banding: A2
Performance:

Engine: 2.5 litre inline 4 Cylinder, 175 bhp at 5,700rpm

Electric Motor: 118 bhp

Power: 207 bhp (combined)

Torque: 221Nm from 3,600 - 5,200rpm

Fuel Consumption: 22.6km/l

0-100km/h: 8.5 Seconds

Top Speed: 180 km/h

Drivetrain: CVT transmission; Front-Wheel Drive

Brakes: Ventilated Disc Brakes 
Measurements:

Wheelbase: 2,820 mm

Dimensions (LxWxH): 4,890 mm x 1,840 mm x 1,450 mm

Fuel Tank Capacity: 60 litres

Boot Capacity: 427 litres
Features:

Keyless Entry

Full-Speed Dynamic Radar Cruise Control (DRCC)

Lane Departure Alert (LDA)

Head-Up Display (HUD) 
Photo Credit: ACube Creative (@weareacube)
Editor's Note: The car reviewed is a Singapore-spec unit. Local variants may have differences in powertrain and/or trim options.
I want to find the highest selling price for my car within 24 hours!
---
Read more: Choosing the Most Suitable Car For You