mReview: 2021 Honda Civic - Refreshingly Revolutionarily Retro
Japanese saloons tend to follow a fairly standard recipe. Designed for affordability and efficiency, these saloons seem to package a 1.5-litre engine, with a CVT transmission and front-wheel drive, all wrapped up in a mid-sized saloon shell.
The net result is a car with bulletproof reliability, sensibility, and overall frugality. Whilst these are desirable traits in any car, you get the sense that other positive traits, such as the 'fun-to-drive' factor, have been neglected.
Their small engines and CVT transmissions point to their one true purpose, as a bread-and-butter car to shuttle small families going about their business. On paper, the new Honda Civic seems to very much fall into this category.
Do Not Judge A Book By Its Cover
Honda Civics, much like its other Japanese compatriots, are ubiquitous on our roads. Whilst they possess the same basic formula as their rivals, they often promise a more youthful, and even 'sporty' ownership experience.
This is why previous generation Civics have always, anecdotally anyway, sold better towards a younger audience than its equivalent rival offerings. Also, Honda is the only manufacturer in this category to have created a hotted-up version of their bread-and-butter saloon. The base chassis has to therefore be competent for this souping-up to work out.
Times Are Changing
This new Honda Civic's engine is lifted almost wholesale from the previous generation. But that isn't necessarily a bad thing. It is a 1.5-litre inline four-cylinder engine with VTEC, though you are unlikely to hear the high RPM VTEC scream old Hondas are famous for.
Whilst clearly not built or marketed as an 'eco car', global emissions regulations mean that even Honda isn't immune to forced induction in the pursuit of efficiency. The sound-killing turbocharger does pay dividends in other markets though, with close to 190bhp on tap.
However, to keep the car competitive in a local context, Honda has had to restrict its maximum output to 129bhp to keep it within the Cat A COE bracket. But more on the overall driving experience later.
On The Outside
There's a sense of deja vu if you are hardcore into your Hondas. The Civic has grown physically over the years, but the current generation car really looks a lot larger than any of its predecessors. The styling very clearly apes that of the Accord, with a butch front end, and an aggressive crease in the metalwork on the side.
We appreciate the effort in standardising their design language across their saloon offerings, but can't help but feel that there is a sense that something is missing upfront. Perhaps this has something to do with the vast expanse of plastic between the grilles and the bonnet.
There are other elements of older Honda Civics too. The profile is reminiscent of the last generation Civic, which tapers into the rear end that has clearly been inspired by the '80s/90s Civic-meets-late 2010s Civic' ethos.
In The Cockpit
The homage to its heritage continues on the inside. We believe that Honda has nailed the retro-to-modern ratio in the cabin. The overall shape and proportion are reminiscent of that of the original Civic. However, where needed, they have taken creative liberties to alter various styling cues to fit modern amenities.
A retro-looking aluminium mesh runs the width of the dashboard and conceals the aircon vents. They can be adjusted with joystick-like attachments. It is surrounded by a gloss black plastic trim for some added retro-coolness.
A prime example of blending old and new would be their execution of the aircon switchgear. The overall design reeks of classic goodness, but with the displays and LED backlight on the centre of each knob, it really reminds you that you aren't in any mere commuter car, but instead, is in something that celebrates a bygone era.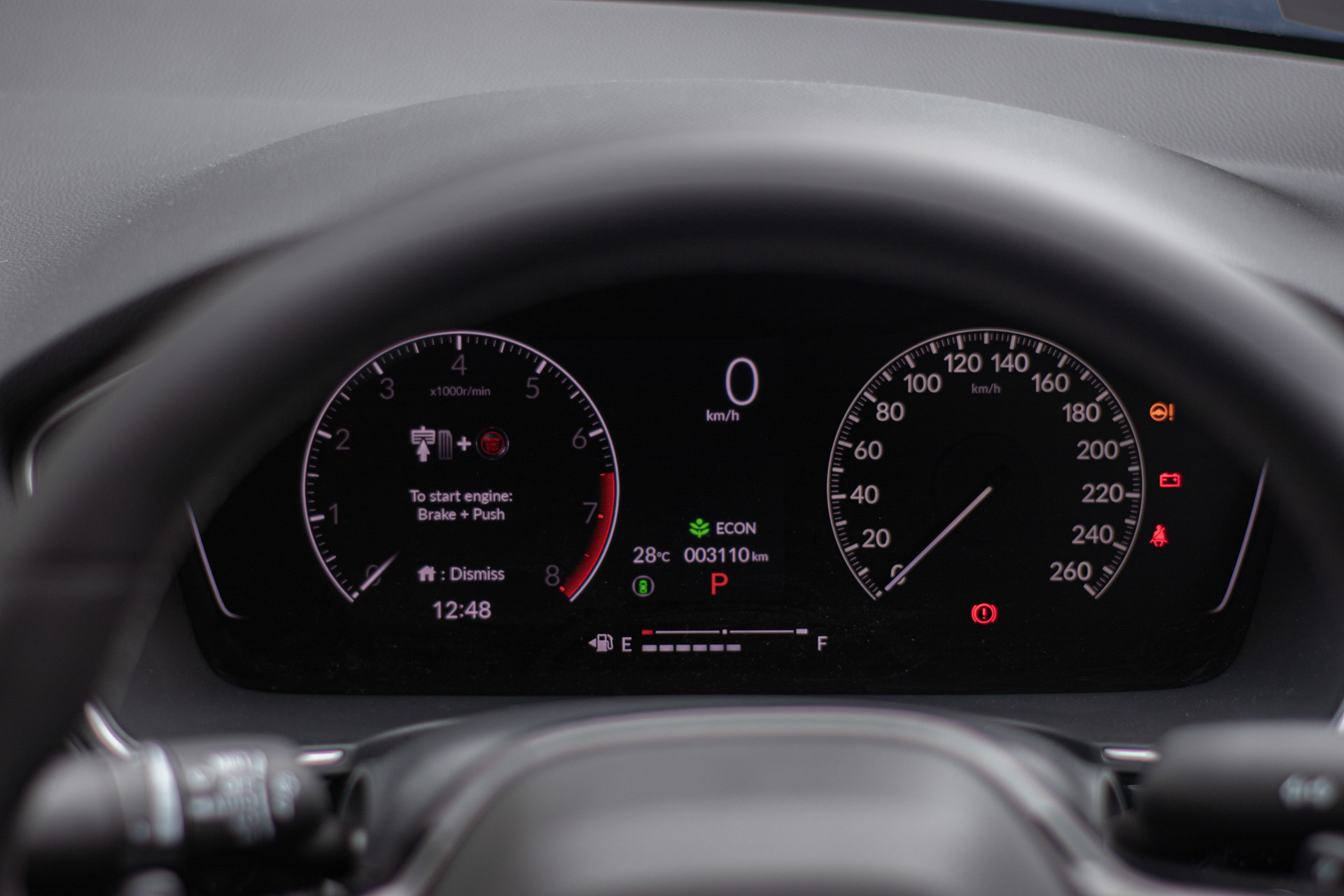 The gauge cluster consists of an analogue speedometer and a digital tachometer that mimics the former. The screen allows Honda to display a plethora of information, such as driving modes and fuel economy.
To round the interior experience off, a chunky steering wheel and soft-touch plastics across the cabin makes you feel that you are in a plush and premium car that could have come from Europe. 
Fit and finish is generally excellent, save for a squeak from the infotainment screen on rougher terrain, and door cards that are a touch flimsy.
The Drive
As mentioned above, Honda built the Civic not necessarily with efficiency, or with eco-consciousness in mind. No electrified, polar bear-friendly technology here, the Civic has a good old fashioned 1.5 litre, turbocharged four-banger under the bonnet.
We need to give props to Honda's CVT technology. Whilst other Japanese CVT transmissions ruin the driving experience, Honda's system is very clear as to what it needs to do and when it needs to do it. 
There are pre-determined ratios for each 'gear', and when the throttle is depressed, it recognises you need the power in an eerily double clutch-lite way.
But a sporty-feeling car isn't just about the way it goes in a straight line. The car has to be good in the twisties too. The Civic doesn't disappoint on this front. There's enough heft and precision in the steering rack, that we'd have no qualms saying it effectively has a MINI-lite (i.e go-kart-like!) sort of steering feel on turn-in.
We preferred the heft of the steering in eco-mode, though it did dull the throttle response and exacerbated the power issue. Sport mode does crisp up the throttle, though the steering then became too light and sharp. 
Unlike dedicated sports cars, there's no option for a customised driving mode. We left the car in eco-mode for most of the test just for the steering feel alone.
There's then its suspension. It is as stiff as you can realistically go, without compromising day-to-day comfort. This does mean it isn't as compliant as other offerings in its class. Still, it's a tradeoff that is worth it, as it offers an old world-esque charm about the way it conducts itself.
Overall Thoughts
The new Honda Civic has a fantastic chassis, and the lack of power doesn't actually detract from the experience if you're just driving it as a commuter car. 
The latter means that even if traction control is off and with liberal use of the loud pedal, you are unlikely to get wheel slip or be going quick enough to lose your licence.
That isn't to say the car lacks oomph. In the lower ratios, the Civic is perfectly capable of keeping up with traffic. It's as you are getting towards the upper ratios that you start to feel the effects of the artificial restriction.
Throughout our test, we returned an average of 11.5km/l. This was a good mix of low-speed city driving, expressway driving, as well as stopping for photoshoots. 
We then did a more realistic, economy-type run. The aircon was still on for this - we only opted to lift-and-coast, and not accelerate at all unless we were absolutely certain we didn't have to stomp on the brakes again.
The result? A little over 16km/l, which actually exceeds the rating Honda claims the car would do! For a car that really isn't economy-oriented (no hybrid or even start-stop here!), that is a really impressive figure!
A sporty driving saloon that is well made and good on petrol sans electrification - is this quite possibly what a modern petrolhead's dreams are made of?
Visit Honda Singapore to book a test drive today!

Specs
Performance:

Engine: 1.5 litre DOHC VTEC Turbo

Power: 129 bhp

Torque: 180Nm from 1,700 - 4,500rpm

Fuel Consumption: 15.6km/l

0-100km/h: 10.7 Seconds

Top Speed: 200 km/h

Drivetrain: CVT transmission; Front-Wheel Drive

Brakes: Ventilated/Solid Disc Brakes 
Measurements:

Wheelbase: 2,735 mm

Dimensions (LxWxH): 4,678 mm x 1,802 mm x 1,415 mm

Fuel Tank Capacity: 47 litres

Boot Capacity: 420 litres
Features:

Keyless Entry

Adaptive Cruise Control (ACC) w/ Low-Speed Follow (LSF)

Lane Keep Assist System (LKAS)

Lead Car Departure Notification System

Road Departure Mitigation (RDM) w/ Lane Departure Warning (LDW)
Photo Credit: ACube Creative (@weareacube)
Editor's Note: The car reviewed is a Singapore-spec unit. Local variants may have differences in powertrain and/or trim options.
I want to find the highest selling price for my car within 24 hours!
---
Read More: Malaysia Hit By Flash Floods: Over 30,000 People Displaced