Are you thinking of selling your car for the highest price possible? Here are 10 factors that will affect its market value. These factors include wear and tear, mileage and demand.
Yes, car market value is integral to factor in if you want to sell your car. If not factored in you could potentially not get your car sold at all. Which brings us to the question; what exactly is car market value and what are the factors that affect it?
Car Market Value
Car market value is the value of the car when it rolls off the production line. However, over time, that value is reduced through depreciation for various reasons. The newly updated cost is called the future car market value.
For example, a brand new Perodua Myvi was bought off the production line for a market value of RM45,000. The minute it's bought, the car's market value reduces by around 9-11%, which brings the future market value to RM40,500. That is what the car will cost if you intend to sell it then and there. 
But there are many other factors that can further lower the car's market value.
What Affects Car Market Value?
As mentioned before, the Car Market Value will decrease due to various reasons. Here's a list of them:
Wear and Tear
Wear and tear is inevitable. Over a period of use, the parts of the car will start to wear a little. The tyres grow bald, the exhaust might rust or the alignment will start to feel strange. However, this all depends on how frequently you use the car. The more frequently the car is driven, the faster the rate of wear and tear.
Regular maintenance will reduce the effects of wear and tear on parts of the car. For example, replacing the engine oil every 8,000 kilometres can reduce the risk of engine damage over time.
Mileage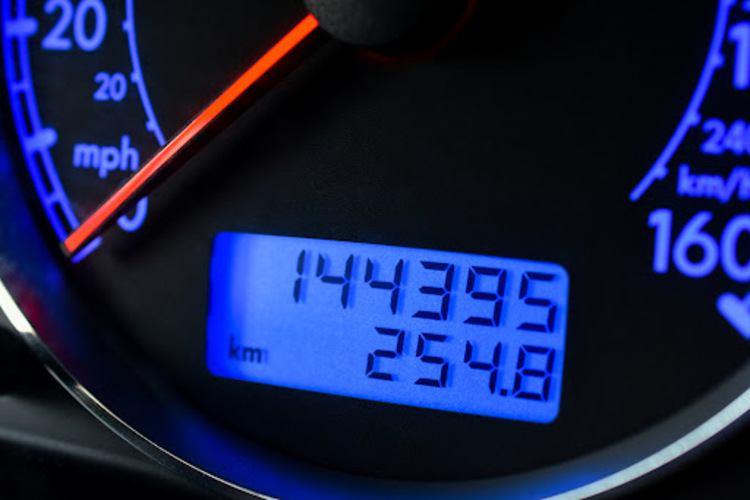 (Photo Credit: CarHistory)
Mileage and wear and tear usually go hand in hand. For a lot of buyers, a car with high mileage would usually mean that the car has been used frequently. Therefore, it can be assumed that there would be more wear and tear on the car, thus increasing the likelihood of future breakdowns.
The opposite is also true. If the car has low mileage, there would be less chance of wear and tear.
Customisation
Aftermarket parts, especially for Japanese hot hatches and luxury saloons, are plentiful, from exhaust tips, bolt-on turbochargers to spoilers and canards as well as decals.
Although these customisations may seem attractive to the current owner, they could lower the desirability and value of the car as most buyers do not know how well the work was done to the car. The exterior colour can also take a big hit on the value as most buyers are less keen to buy bold colours such as hot pink or brown. 
Factory Options
(Photo Credi: cars.com)
This can be a hit or miss depending on the car and the options. For example, if the car is an SUV that comes with a sunroof option it would not be hit hard with depreciation due to high demand. 
Conversely, if a car does not come with air-conditioning, power windows or door locks which are options that are ubiquitous, the market value will take a divebomb due to the need for these amenities in the modern era.
Interestingly, slightly older sports cars such as the Nissan 370Z or an R34 Skyline GTR hold more value in manual rather than automatic transmission because the target audience, who are mainly car enthusiasts, are willing to sacrifice convenience for a more raw driving experience.
Number of Owners
The number of owners means the number of people who have owned the car in the past. If you are looking for a used car you would want to find one with a low owner count. 
This is important as a car with more owners is subjected to different driving styles and different maintenance schedules which, in the long run, hurts the car. 
This is why the market value drops significantly every time a car changes hands. Typically, you would want to find a car with less than 2 owners previously.
Demand and Style
(Photo Credit: Nextrift)
This section is pretty subjective, however, the trend here is that if your car is not in demand, it will lead to a lower market value.
Popular cars such as the Honda City and the Nissan Grand Livina enjoy higher market value than a Proton Saga due to high demand, mainly for fuel economy and practicality.
Warranty
Warranty in Malaysia is transferrable, meaning that if your warranty coverage still has many more years or mileage left over, the next owner will be able to enjoy these benefits.  Naturally, cars like these are in high demand which leads to a higher market value.
Car Size
(Photo Credit: Carscoops)
To cater to the growing numbers of an average Malaysian family, Malaysian car makers have been experimenting with making cars bigger and bigger. 
It's no surprise then that many of the bigger, seven-seater cars with large boot spaces retain such high market value due to the ever-growing demand.
Fuel Efficiency
(Photo Credit: New York Times)
To add to the size of the car, any car that is able to efficiently ferry people and goods from point A to point B is always in demand. 
Simply put, the more fuel-efficient the car is, the less frequently people have to stop to pay for fuel, which relates to why the more fuel-efficient cars such as the Toyota Prius are in demand and have high market value.
Facelifted Cars
(Photo Credit: Cnet)
Once every few years, a car's design gets outdated. This ranges from the exterior such as the headlights or the bodywork to the inner workings such as the engine or the suspension components.
A newly facelifted car would have updated most of these components which might increase many performance specifications such as driveability, fuel efficiency or practicality. Which is why most newly facelifted cars will retain high market value. 
In summary, these are the things you should factor in when planning to sell your car. However, if you are still in doubt about your car's market value, head over to our car valuation page and our team will evaluate your car quickly within 24 hours!
Claim your free car valuation today!
---
Read more: Google Maps vs Waze: Which is Better?